Who is Raghaus & who is Markus Hartel?
Born the son of an auto mechanic in a small industrial town in western Germany, Markus Hartel (follow @hrtl on twitter) dreamed of a life in the arts. Instead of joining the family business, after graduating school, he applied and was accepted to a typesetting apprenticeship with a local printer. It was in that shop, where the smell of paper, ink and oil got in his blood, that Markus discovered a place where he could combine his aptitude for all things mechanical with his need for expression. There, he learned the principals of printmaking, graphics and design. He used to fall asleep poring over font sample catalogues and pantone books.
This was also an exciting time in the industry and the introduction of computers both revolutionized graphic design and nearly killed the real craft of printmaking. The digital age had arrived. When his apprenticeship ended and with a head full of ideas on how to capitalize on this new technology, Markus opened his own print shop. The shop grew quickly and was the go-to place in town for fast turnaround prepress, digital printing and graphic design.
After a decade of success, Markus grew restless and closed shop to conquer the new world. When he landed in NYC, his inner artist had a resurrection. This time, he took to the streets to savor the urban landscape behind his trusted Leica camera; and without meaning to, he became one of the better known modern Street Photographers. To support his new habit, Markus continued to work in all aspects of graphic design, web design, photo retouching, branding, creating logos, tablet computer apps etc. He is a giant sponge and never tires of researching, learning new modalities or working them into his repertoire.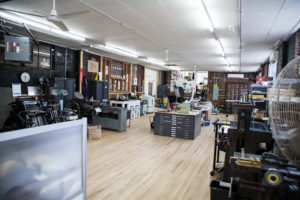 Having lived in Manhattan for nearly 13 years, it was time to make a change. Markus was growing restless in the demands of the city and pined for a small town life where he could one day open a shop again. This time, he wasn't interested in a high volume operation, but one that took him back to his roots and allowed him to merge his tech knowledge with his aesthetic, to create distinctive designs, fabricated with old world techniques.
On vacation, he happened upon an article in a local paper about Newburgh. The article (a reprint from a NY Times article) described urban pioneers migrating to this once grand town, where artists and small companies were capitalizing on the economical real estate and amazing architecture of a historical City overlooking the Hudson River. Immediately he was intrigued and the fantasy grew into an exploration, which became a plan to set foot in the City of Newburgh.
He already knew that he would want to open a letterpress shop, but assumed that it was a few years off. Within 6 months of moving into the new house, a miracle ad popped up on Ebay. While letterpress has seen a resurgence, the serious machines are hard to come by, often not well maintained and extremely expensive to move, since they weigh approximately 3,000 pounds and might be as far as the west coast.
This was a listing for a Heidelburg Windmill press… the very machine Markus had in mind. Not only was it in mint condition; it also had but a single owner AND was right here in Newburgh! There was a 3rd generation printer in town closing shop after 115 years in business. The owner was 93, had been a flight mechanic in WWII and had no heirs to pass on his legacy. And when Markus walked through his doors, he was transported to his apprenticeship days, feeling instantaneously at home. In the back of the shop, behind the newer presses, mechanical cutters and folding machines, were not one but two beautiful relics waiting to be revitalized (much like the town they now called home). Two Heildelburg windmills, one from the 50's and one from the 60's, were pining for a new home and to start their hum again.
Those two presses were the start of a new era for Markus (@raghaus on twitter), and Raghaus Studios was born. They now reside at 223 Broadway in the City of Newburgh, where they are busy producing one-of-a-kind gifts and memorable impressions. And Markus is humming right along with his presses, inspired, and always discovering new ways to utilize this beautiful and historic medium to execute his modern off-beat designs.